DÉBORDS
After having been immersed, in her performance histoire(s), in the memories of audience members who attended the première of The Young Man and Death on the 25th of June 1946 at the Théâtre des Champs Elysées in Paris, Olga de Soto continues her creative investigation into perception and the history of dance. This time her focus is the legendary work The Green Table by German choreographer Kurt Jooss, premièred in 1932 at the same Parisian theatre. This seminal piece is renowned not only for its socio-political and pacifist message, but also for the stand its creator took against the first anti-Semitic laws enacted by Hitler upon his rise to power in 1933. This ballet composed of eight tableaux for sixteen dancers and inspired by a mediaeval danse macabre, is considered one of the most politically engaged works in the history of 20th century dance. The work is iconic for its themes (the rise of fascism and war), the insight it provides into the troubled period that preceded the Second World War, and, indeed, its prescience of the darkness that was to mark the era.
For this second instalment of her study of The Green Table, Olga de Soto invites six dancers to respond to the testimony collected during her research. The dancers are acting on stage as carriers and messengers of, bridges and vessels for, these memories. While in histoire(s) she concentrated on the reception of a piece at the moment of its unveiling, here she has harvested the traces The Green Table left behind, not only among those who saw it performed at different moments of history and in different countries, but also among the several generations of dancers who performed it and transmitted. Her indefatigable research took her from Belgium to Chile via Germany, the Netherlands, France, and England, a 42,000 km journey yielding 67 hours of filmed interviews.
The choreographer approaches The Green Table through its impact, digs through time, moves on, searches, investigates, rummages, in order to offer us a piece built on words, often very powerful. Words, but also bodies and views that question what charge the work carries, and which the dancers still startlingly carry today.
 
production Caravan Production and Niels Production (Brussels)
co-production Joint Adventures/Tanzwerkstatt Europa (Münich), Les Halles (Brussels), Culturgest (Lisbon), Festival d'Automne (Paris), Les Spectacles vivants - Centre Pompidou (Paris), Tanzquartier Wien (Viena), Centre Chorégraphique National de Montpellier Languedoc-Roussillon (CCNM) in the frame of Jardin d'Europe - with the support of the European Union, Open Latitudes (Les Halles - Brussels, Latitudes Contemporaines - Lille, Le Manège de Mons / Maison Folie - Mons, Cialo Umysl Foundation - Warsaw, Teatro delle Moire - Milano, Sin Arts and Culture Centre - Budapest, Le Phénix Scène Nationale - Valenciennes, l'Arsenic - Lausanne) - with the support of the European Union.
with the support of Tanzfonds Erbe, an iniciative by the German Federal Cultural Foundation, the Federation Wallonia-Brussels — Secteur danse, Wallonie-Bruxelles International (WBI), Archives Jooss (Köln/Amsterdam) / Deutsches Tanzarchiv Köln.
with the additional support of Théâtre de Liège and Centre Chorégraphique d'Uzès.
This project has received research grants from the French Ministry for Culture and Communication (FR) and from the Federation Wallonia-Brussels (BE) for the development of the documentation research work.
The project was developed by the choreographer while she was associated artist at Les Halles (Brussels), between 2009 and 2012.
Languages of the performance English, Spanish, French and German
length 1h40

A TANZFONDS ERBE PROJECT, AN INITIATIVE BY THE GERMAN FEDERAL CULTURAL FOUNDATION.
choreography, documentation, camera, sound and video direction
Olga de Soto
video editing Julien Contreau and Olga de Soto
lighting Philippe Gladieux
sound creation and sound mix Mathieu Farnarier
video technician creation Bram Moriau
video technician on tour Eric Desjeux
conception of the scenography Shizuka Hariu and Olga de Soto
scenography Shizuka Hariu / SHSH
technical direction and stage technician Daniel Huard
construction of the scenography Yann Stroobant
translation Christiane Gleis, Diane Lara, Samuel Toledo, Ecaterina Vidick and Olga de Soto
subtitles Tongues United and Niels Production
research assistant Karin Verbruggen
music Frederic Rzewski (The People united will never be defeated - Variation Nr. 1) and John Cage (Sonatas for prepared piano - Nr. 1 & Nr. 5)
with Fabian Barba or Jaime Llopis, Alessandro Bernardeschi, Edith Christoph, Hanna Hedman, Mauro Paccagnella, Enora Rivière
with testimonials by Marina Grut, Ann Hutchinson Guest, Christian Holder, Joan Turner Jara, Nora Salvo, Jeanne Brabants, Michèle Nadal, Hanns Stein, Andras Uthoff, Edith del Campo, Philip Lansdale, Juan Allende-Blin, Toer van Schayk, Fernando García, Bruno Jacquin, Jacqueline Challet-Haas, Gerd Zacher, Jeanette Vondersaar and Françoise Dupuy.
Premiere in November 2012 at Festival Latitudes Bruxelles, Les Halles, Brussels
The performance includes testimonies in French, Spanish, English and German.
There are versions in German, English, Spanish, French and Portuguese.

The German, French and English versions have been produced by Niels Production & Caravan Production, Brussels (BE).
The English version has been produced by Niels Production, Brussels (BE).
The Spanish version has been produced by Niels Production and coproduced by Goethe Institut, Santiago de Chile (CL).
The Portuguese version has been coproduced by Culturgest, Lisbon (PT) & Niels Production.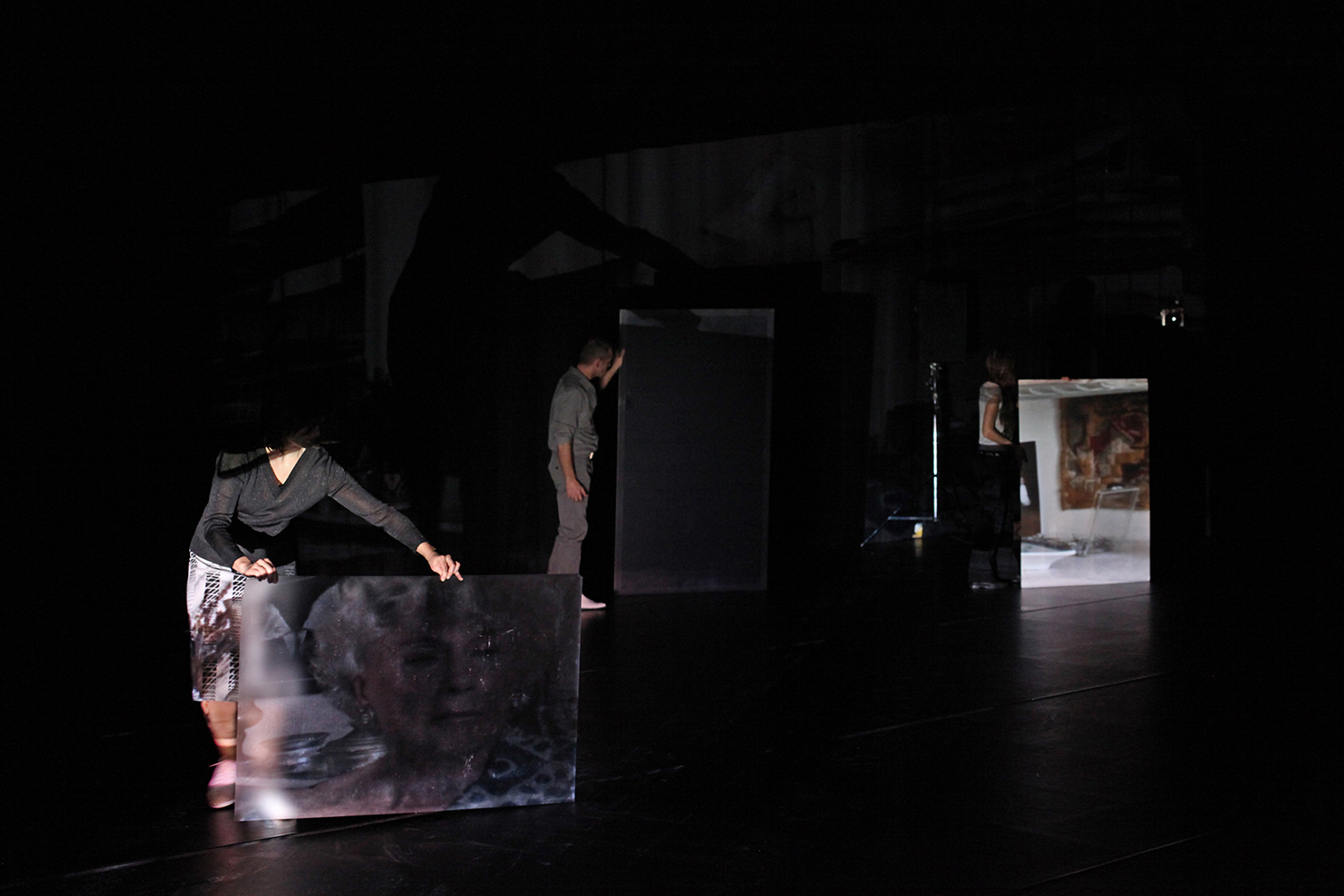 Interview for Tanzfonds Erbe, conducted by Andrea Keiz. Questions by Franz Anton Cramer and Isabel Niederhagen.
Olga de Soto interviewed by Valérie Da Costa at Un Nouveau Festival, Centre Pompidou, Paris, 2014.